Sit back. Relax. Enjoy the show.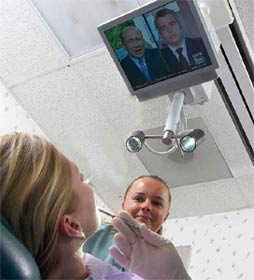 The most comfortable chair in the house! For the comfort of our patients, our office is equipped with the TLC System.
The TLC HDTV system incorporates an overhead LCD flat screen so you can watch HDTV Comcast cable or DVD movies during dental work.
You can also take a tour of your mouth during the examination visit. The screen rotates for comfortable viewing.
Time flies by in our office while your teeth are being taken care of as you watch your favorite entertainment. Finally, you can enjoy a relaxing, anxiety-free Issaquah or Bellevue area dental visit.